Tours Bolivia
UYUNI SALT FLATS TOURS (2 DAYS/1 NIGHT)-Uyuni, Bolivia
Add.: Av. Ferroviaria #3, Uyuni
E-mail:
REVIEWS OVER TOUR OPERATOR
The guide drove us to all the sites but would disappear and we couldnt always find him. The car did
Maryam, Estados Unidos | 2013-10-19
Tour bien organizado con transporte, comida y guiaje.
Constanza, Espana | 2012-09-09
En the last period this property has been rated 1 times.
Click out to see last reviews and rating
TOUR PICTURES
Picture 1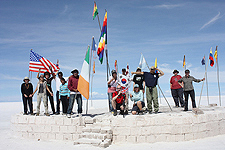 Picture 2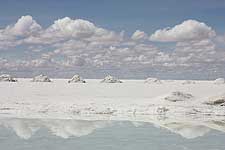 Picture 3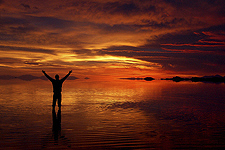 Picture 4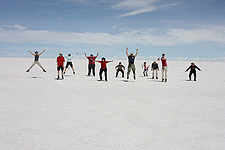 INFORMATION ABOUT UYUNI SALT FLATS TOURS (2 DAYS/1 NIGHT)
Uyuni Salt Flats Tour and Bolivia SouthWest
The Salar de Uyuni is the largest salt lake in the world and stretches for hundreds of kilometres. This vast shimmering white expanse is visited by 4 wheel drives which travel on the many meandering tracks across the lake and going to Parque Avaroa (Colored Lagoons).
Notable Highlights:
Salar de Uyuni, is the largest salt flats in the world. Sitting 3650 meter high, Salar de Uyuni sits in the Departmento of Potosí in southwest Bolivia near the crest of the andes.
40,000 years ago the salt flats were a part of Lago Minchin, a giant prehistoric lake. When this lake dried, it left behind two modern lakes, Lagos Poopó and Uru Uru, and the two major salt deserts, Coipasa and the larger Uyuni.
Salar de Uyuni is estimated to contain 10 billion tons of salt of which less than 25,000 tons is extracted annually. Every November Salar de Uyuni is also the breeding grounds for three breeds of South American flamingos - Chilean, James and Andean. Salar de Uyuni is also a significant tourist destination in western Bolivia. Also, we visit colored lagoons (red lagoon and green lagoon), mummies, deserts and small towns on the way.
Suitable for:
Confident beginners to experts, average fitness and above.
Description:
DAY 1: The tour starts at 10:00 in the morning when the tour leader waits for you in the travel company office then take you in a private transportation to Colchani, Eyes of Salt Flats, Uyuni Salt Flats, Salt Hotel, Incahuasi Island and overnight in a Salt Hotel in Atulcha.
DAY 2: After breakfast the jeep goes to a near Vulcano, a small lagoon with flamingos, train cemetery and back to Uyuni.
Note:
Some days is possible visit how people pick and process the salt.
VITAL STATS
Category: Tour Adventure / Aventura
Fitness Required: Moderate/Moderado
Availability: Daily/Diario
Duration: 2.0 days
Departs on: Uyuni
Arrives to: Uyuni
Visits:
Dia 1/Day 1
Colchani
Ojos del Salar
Salar de Uyuni
Hotel de Sal
Isla Incahuasi
Dia 2/Day 2
Faldas Volcan
Laguna
Cementerio de Trenes
Cueva del Diablo
Caverna de Galaxias
Location: Uyuni
Begin: 10:30 am
Finish: 16:00 pm
Payment in advance: Blue Line Service requires payment in advance in order to guarantee your tour. After making the reservation we will let you know methods to pay your tour in a safe and fast way (Credit Cards, Bank Deposit or Money Transfer).
IMPORTANT INFORMATION
What to Bring
Camera
Sun Block Cream
Water
Sleeping Bag
Sun Glasses
Waterproof Clothing
Clothes:
….. Thermal shirt
….. Rainproof/windproof jacket
….. Long pants
Provisions:
….. Chocolate or your favorite riding treat
Odds and ends:
….. Bandana
The Price Includes
Guide/Driver
Transportation
2 Lunchs, 1 Breakfast and 1 Dinner
Snacks
Basic Accommodation
The Price do NOT Includes
Isla Incahuasi Fee
Galaxy Cavern Fee
Water
Sleeping Bag
CANCELLATION POLICY
We understand that sometimes plans fall through. We do not charge a change or cancel fee. However, this property (Blue Line Service ) imposes the following penalty to its customers that we are required to pass on: Cancellations or changes made 24 hours before your arrival date-time are subject to a total tour fare & Tax penalty. The property makes no refunds for no shows or early checkouts.

Bolivia Independence Day
2014-08-10
Bolivia, officially known as the Plurinational State of Bolivia (Spanish: Estado Plurinacional de Bolivia, Quechua: Bulivya Mamallaqta, Aymara: Wuliwya Suyu),[10][11] is a country in central South America....
More Info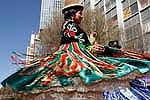 Urkupiña Festival in Cochabamba
2014-08-10
The feast of Our Lady of Urkupiña held between 14-16 August every year in the city of Quillacollo (near Cochabamba). Religious devotion and folk dances are for this purpose....
More Info

Anniversary of La Paz Department on July 16th
2014-07-13
Nuestra Señora de La Paz (Our Lady of Peace; Aymara: Chuquiago Marka or Chuqiyapu) is the administrative capital of Bolivia. This july 16th celebrate one anniversary....
More Info

Tarija Anniversary
2014-04-15
April 15th is the day of Tarija Department. Battle of La Tablada....
More Info