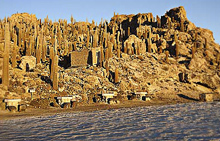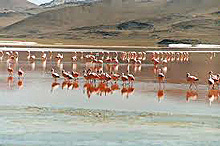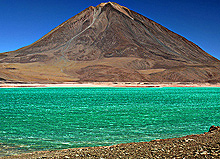 The southwestern corner of Bolivia is an aweinspiring collection of harsh, diverse landscapes ranging from the blinding white Salar de Uyuni salt flat to the geothermal hotbed of Los Lípez, one of the harshest wilderness regions of the wolrd and an important refuge for many Andean wildlife species. The ground here literally boils with minerals, and the spectrum of colors is extraordinary.
A circuit from Uyuni takes you through absolutely unforgettable, literally breathtaking landscapes and is the highlight of many visitors to Bolivia.
Much of the region is nominally protected in the Reserva Nacional de Fauna Andina Eduardo Avaroa (REA), which was created in 1973, covers an area of 7150 sq km and receives in excess of 50,000 visitors annually. Its emphasis is on preserving the vicuña and the yareta plant, both of which are threatened in Bolivia, as well as other unique ecosystems and endemic species.
Most people visit the region on an organized trip from Uyuni or Tupiza.
1.- Salar de Uyuni One of the most evocative and eerie sights of the globe, the largest salt flat of the world (12,106 sq km) sits at 3653m. When the surface is dry, the salar is a pure white expanse of the greatest nothing imaginable – just the blue sky, the white ground and you. When there is a little water, the surface perfectly reflects the clouds and the blue Altiplano sky, and the horizon disappears. If you are driving across the surface at such times, the effect is positively surreal, and it is hard to believe that you are not actually flying through the clouds.
The Salar de Uyuni is now a center of salt extraction and processing, particularly around the settlement of Colchani. The estimated annual output of the Colchani operation is nearly 20,000 tons, 18,000 tons of which is for human consumption while the rest is for livestock.
2.- Isla Incahuasi For most Salar de Uyuni tours, the main destination is the spectacular Isla Incahuasi, better known as Isla del Pescado, in the heart of the salar 80km west of Colchani. This hilly outpost is covered in Trichoreus cactus and surrounded by a flat white sea of hexagonal salt tiles. It was once a remarkably lonely, otherworldly place but since the advent of salar tours, it has become overrun with tourists. All the tour groups arrive at the same time, at midday, and swarm over the hiking trails chasing the perfect photo of cacti and salt.
This is where most groups have their lunch but there is also a café-restaurant. Altogether an industrialized tourist experience, it is still a beautiful sight if you forget the crowds.
3.- Tunupa and Coquesa A rounded promontory juts into the Salar de Uyuni diagonally opposite Colchani, and on it rises Volcán Tunupa (5432m). One legend states that Atahualpa slashed the breast of a woman called Tunupa on its slopes, and the milk that spilled out formed the salar. Another story goes that, back in those ancient days, mountains were men and women. Right after giving birth to their baby, Tunupa learned her man was living with another woman. Devastated, she wept and wept, spilling her salty tears over her breast milk, and creating this vast area of sadness and beauty that is now the salar.
Altitude aside, this hulking yellow mountain is a relatively easy climb. At the foot of the volcano is the village of Coquesa in an area specked with ruined ancient villages and burial grounds. Articles of clothing and artifacts in ceramic, gold and copper have been discovered at some of the sites, indicating the presence of an advanced but little-known culture. Unfortunately, its remoteness has left it vulnerable to amateur treasure hunters who have plundered several items of archaeological value. At Hospedaje Chatahuana, you can ask for the keys to the Museo Coquesa, which has a collection of ceramics and mummies.
In Coquesa, you can also arrange a nighttime visit to the nearby observatory, to really appreciate the starry skies.
4.- Los Lipez Entering the remote and beautiful region of Los Lípez, many tours pass through a military checkpoint at the village of Colcha K (col-cha kah), where there is a pleasant adobe church and a series of fairly rudimentary dormitory accommodations. About 15km further along is the quinoa-growing village of San Juan at an elevation of 3660m. It has a lovely adobe church, a population of 1000, and several volcanic-rock tombs and burial chullpas in the vicinity. The communityrun Museo Kausay Wasi displays regional archaeological finds.
At this point the route turns west and starts across the borax-producing Salar de Chiguana, where the landscape opens up and snowcapped Ollagüe (5865m), an active volcano straddling the Chilean border, appears in the distance.
The route then turns south and climbs into high and increasingly wild terrain, past the several mineral-rich lakes filled with flamingos and backed by hills resembling spilled chocolate sundaes. After approximately 170km of rough bumping through marvelous landscapes, the road winds down to the muchphotographed Árbol de Piedra (Stone Tree) in the Desierto Siloli, 18km north of Laguna Colorada.
The next attraction, Laguna Colorada is a fiery red lake (4278m) that covers approximately 60 sq km and reaches a depth of just 80cm. The rich red coloration is derived from algae and plankton that thrive in the mineral-rich water, and the shoreline is fringed with brilliant white deposits of sodium, magnesium, borax and gypsum.
The lake sediments are also rich in diatoms, tiny microfossils used in the production of fertilizer, paint, toothpaste and plastics, and as a filtering agent for oil, pharmaceuticals, aviation fuel, beer and wine. More apparent are the flamingos that breed here; all three South American species are present. The clear air is bitterly cold and winter nighttime temperatures can drop below -20°C.
Apart from tour groups, most vehicles along the tracks around Laguna Colorada will be supplying or servicing mining and military camps or the geothermal project 50km south at Sol de Mañana. The main interest here is the 4850m-high geyser basin with bubbling mud pots, hellish fumaroles and the thick and nauseating aroma of sulfur fumes. Approach the site cautiously; any damp or cracked earth is potentially dangerous and cave-ins do occur, sometimes causing serious burns.
At the foot of Cerro Polques lies the Termas de Polques, a small 29.4°C hot-spring pool, and an absolute paradise after the chilly salar nights. Although they are not boiling by any means, they are suitable for bathing, and the mineral-rich waters are thought to relieve the symptoms of arthritis and rheumatism. There is a restaurant here, and changing sheds with toilet facilities.
The stunning blue-green Laguna Verde (4400m) is tucked into the southwestern corner of Bolivian territory, 52km south of Sol de Mañana. The incredible green color comes from high concentrations of lead, sulfur, arsenic and calcium carbonates. In this exposed position, an icy wind blows almost incessantly, whipping the water into a brilliant green-and-white froth. This surface agitation, combined with the high mineral content, means that it can remain liquid at temperatures as low as -21.2°C.
Behind the lake rises the cone of Volcán Licancabur (5960m), whose summit is said to have once sheltered an ancient Inca crypt. Some tours include an ascent of Licancabur, and although it presents no technical difficulties, the wind, temperature, altitude and ball-bearing volcanic pumice underfoot make it quite grueling.
Where the route splits about 20km south of Sol de Mañana, the more scenic left fork climbs up and over a 5000m pass, then up a stark hillside resembling a freshly raked Zen garden dotted with the enormous Rocas de Dalí, which appear to have been meticulously placed by the surrealist master Salvador himself.
5.- Isla Cáscara de Huevo This region is a land of bizarre lava formations, active volcanoes, abandoned villages, badlands, salt flats, pre-Incan cave cemeteries, lone quinoa fields, flying condors, multicolored lagoons and sulfur lakes. We have listed some of the places where you will not be surrounded by packs of jeeps and other travelers, where the feel of the last frontier is true and real.
The small Eggshell Island was named for the broken shells of eggs of the birds that litter it. It lies near the southern end of the Salar de Uyuni and is visited mainly to see the strange patterns of salt crystallization in the area, some of which resemble roses.
6.- Gruta de las Galaxias Some agencies now offer a side trip to Aquaquiza, a quinoa-producing village in Nor Lípez. The attraction of the area lies 8km away, Gruta de las Galaxias and Cueva del Diablo.
Discovered in 2003, Gruta de las Galaxias is a small two-level grotto full of beautiful petrified algae and corrals from the ancient lake. Part of the same complex is Cueva del Diablo, a cave sacred to the locals with a pre-Incan cemetery scattered with small chullpas. Note the cross as you enter the cave, marking where a shepherd girl was found mysteriously dead after seeking protection from a storm inside the cave. There is a viewpoint at the top to admire the spectacularly desolate scenery and the petrified cacti.
7.- Salar de Coipasa This great 2218-sq-km remote salt desert, northwest of the Salar de Uyuni at an elevation of 3786m, was part of the same system of prehistoric lakes as the Salar de Uyuni – a system that covered the area over 10,000 years ago. The 4WD-only road to the Salar de Coipasa is extremely poor and the salt is thin so it is easy to get stuck, especially during the rainy season. If you go, make sure the vehicle and the driver are reliable.
The salt-mining village of Coipasa, which (not surprisingly) is constructed mainly of salt, occupies an island in the middle of the salar. You can also reach the Salar de Coipasa from Oruro province.
8.- Lagoons The blue lake of Laguna Celeste or, more romantically, heaven lake, is still very much a peripheral trip for most Uyuni agencies, but it is gaining popularity with adventurous travelers as a one-day detour.
A local legend suggests the presence of a submerged ruin, possibly a chullpa, in the lake. Behind the lake, a road winds its way up Volcán Uturuncu (6020m) to the Uturuncu sulfur mine, in a 5900m pass between the mountain's twin cones. That means it is more than 200m higher than the road over the Khardung La in Ladakh, India, making it quite possibly the highest motorable pass in the world.
In the vast eastern reaches of Sud Lípez are numerous other fascinating mineral- rich lakes that are informally named for their odd coloration and have so far escaped much attention. Various milky-looking lakes are known as Laguna Blanca, sulfurcolored lakes are Laguna Amarilla and winecolored ones are known as Laguna Guinda.
Laguna Cañapa and Laguna Hedionda are also part of some circuits. You can negotiate to add any of these to a tailored circuit.
9.- Quetena Chico and AroundAbout 120km northeast of Laguna Verde and 30km southwest of Laguna Celeste is the small mining settlement of Quetena Chico, which has a few basic services and supplies, a military post and the Centro de Ecología Chaska, which has an exhibition on the geology and biology of the Los Lípez region, and the lives of the local llama herders.
Southeast of here, 6km away, is the picturesque abandoned village of Barrancas, which nestles against a craggy cliff.
Heading back toward Uyuni, the village of Villa Mar has an interesting mercado artesanal (craft market) that is worth a visit. Stretch your legs by strolling the 4km to some of the most spectacular pinturas rupestres of the area (rock paintings), with impressive human figures wearing headdresses, and incised animals.
10.- Valles de Rocas and San Cristóbal In the midst of high, lonesome country stretch several valleys of bizarre eroded rock formations known as Valles de Rocas. These strangely shaped badlands are great for a wander and snapping some great photos. From the dusty village of Alota nearby, it is a six-hour jostle back to Uyuni through a string of authentic villages, the most picturesque of which, Culpina K, has colorful little houses and a cafe.
The mining village of San Cristóbal is worth a stop for the lovely 350-year-old church. The entire village, including the church and the cemetery, was moved from its original location next to the mine by the American-Japanese mining project that took over the area digging for lead, zinc and silver.
Salar de Uyuni Tours and Uyuni Salt Flat Tours
Tours in Uyuni
Salar de Uyuni is the world's largest salt flat, located in Bolivia. Photographers flock here to capture the unique landscape. It is often visited as part of a 3 or 4 day tour of South West Bolivia, described below.

Salar de Uyuni Background Salar de Uyuni comprises over 12,000 sq km in the Potosi region. The salt is over 10 meters thick in the center. In the dry season, the salt planes are a completely flat expanse of dry salt, but in the wet season, it is covered with a thin sheet of water that is still drivable.

The standard tour heads south toward the southwest corner of Bolivia, by many fluorescent-colored lakes that are created from a collection of different minerals from runoff from the surrounding mountains.

Tour Background This article outlines the 'standard' tour. The tour is conducted in 4x4 vehicles (usually Toyota Landcruisers) with 6 or 7 people, with the driver often times cooking. Most 3- and 4- day tours have the same itinerary for the first 2 1/2 days, a day on the salt planes, then heading south to the southwest corner of Bolivia, and then splitting off from there. The specific sites that are seen can be dependent on the tour, but group input can define which sites are visited and how much time will be spent at each.

Accommodation is usually provided in basic refuges and the weather can be very cold, but it is well worth it for the amazing scenery. Avoid tours that offer a night in one of the salt hotels - they are illegal as, not being part of the water grid, they polute the environment.


What to Bring
Flashlight (torch) - the lights go out when the generator runs dry.
Coins and small bills - The bathrooms aren't free.
Sunglasses - the salt planes are blinding.
Camera and loads of film - There are no better pictures than here.
Extra Water - The tour usually provides an inadequate supply.
Sunblock - there is no atmosphere to block ths sun's rays up here.
Sleeping Bag - You can rent one with the tour. Down is best, and check to see that the zipper works.
Warm Clothes - Layered is best.
Hot Water Bottle - The nights are freezing & you will be so happy to have it.


Get In The main starting point of tours to the Salar de Uyuni is Uyuni.

Uyuni The options include rail from Avaroa on the Chilean border (unreliable departure times), rail from Oruro, Bolivia, bus (including a tourist bus) from Oruro, Potosi, or La Paz, Bolivia.
Tupiza
San Pedro de Atacama The itineraries from here are virtually identical to those from Uyuni, only reversed, and about 40% more expensive.


Finding an Agency When choosing a tour operator it is important to check with other travelers to understand the type of experience they have had and the vehicles, drivers and food they had on their trip. Trips will arrive in all of the departure cities coming in the opposite direction and this is a good opportunity to ask other travelers their impressions. Common complaints include vehicles in extremely poor repair, a lack of emergency supplies, intoxicated drivers and limited food and water.

Uyuni There are dozens of tour agents offering this trip. Most are situated around the main square, where every other shop is a tourist agency. It is also advisable to find a group of people who are going on the tour who share your interests, and/or language and work with their agency. Minuteman Pizza in the evenings, or the main square is a great place to meet such people. See Uyuni for a complete list.
Tupiza You can also set off from Tupiza and end in Uyuni or vice versa. If setting off from Tupiza there are good agencys and give you the option of finishing in Uyuni or Tupiza. (Cost 145 USD for the 4 day trip July 2008)
Ending on the Chilean Border Another alternative is to do the three day tour and be dropped at the Chilean border before taking at connection to San Pedro de Atacama, or do the entire tour from there.
From San Pedro de Atacama There is also the opportunity to do this tour starting in San Pedro de Atacama, Chile and ending in Uyuni on the third day or returning to San Pedro the following day. The advantage is that you get to see the Salar on the final morning, getting to see the sunrise over the Salar. There are several tour operators along the main street in San Pedro.


Choosing a Tour Package.. Go/Walk/Drive/...

First Day - The World's Largest Salt Flat On the first day you will visit the salt flats. In the dry season this will be a hallucinogenic white landscape. In the rain it is mostly submerged and will show a perfect reflection of the sky.

Uyuni Plaza Arce (3669m, 20.463 S, 66.823 W) - Most trips start here next to the train station at 10:30am, although hotel pickup is usually available.
Train Graveyard (3669m, 20.479 S, 66.834 W) - Usually the first thing of the tour, but some operators prefer to finish the tour with it. A place with a lot of wrecked old steam locomotives.
Colchani, Bloques de Sal (3653m, 20.301 S, 66.938 W) - a village 7 kilometers north of Uyuni that survives off of the processing of salt. salt souvenirs are available, a salt museum that has carvings of animals created with salt (they make you pay the fee upon exit), some examples of furniture and home-building techniques using salt. Bathrooms available for 1B.
Salt-Mining Area (3653m, 20.321 S, 66.994 W) - an area where salt is dug from the plane into piles weighing a ton each, and left to dry in the sun before transport to a refinery then to your table.
Salt Hotels (3653m, 20.331 S, 67.047 W)- Several hotels made completely out of salt. It is necessary to purchase a candy-bar to go inside.
Isla de los Pescados, or Isla Incawasi (3653m, 20.243 S, 67.625 W) - The name originates from the fishlike appearance of the island's reflection in the wet season. In July 2006 it was still possible to visit this island, which is an island of fossilised coral covered in 1000-year-old cacti in the middle of the Salar. These cacti grow at a rate of 1cm per year, so you can easily calculate their age. Most tour groups eat lunch on the western 'shore' of this island. Bathrooms available for 1B.
Accommodation can be found at San Juan (3660m, 20.983 S, 67.767 W), though for a real treat try to get the agency to use to accommodation closer to the Salar: you will then be able to get up before dawn and reach the flats by 4x4 to see the most spectacular sunrise of your life.


Second Day - Heading South Past Colorful Lakes to Laguna Colorada

Laguna Hedionda (4186m, 21.568 S, 68.05 W) - a lagoon full of flamingos and a popular spot for lunch. Bathrooms available for 1B.
Viscacha Area - A short stop at a rocky outcropping reveals a colony of Viscachas. The tour guides feed them carrots to train them to come out for food.
Arbol de Piedra (4412m) - a stone tree that has been carved out of the howling, sandy winds.
Laguna Colorada (4278m, 22.2 S, 67.8 W) - a lake coloured red by the algae that live in it. Also you will see lots of flamingos. A 30Bs fee to enter the Reserva Nacional de Fauna Andina Eduardo Avaroa is required to go any further.
Accommodation - Laguna Colorada area has many basic accommodations in adobe shacks without heating. Cots and blankets are provided. Cold showers available in most places. Outside Temperature can be below -20°C at night in July.


Third Morning - Geysers and Hot Springs down to Laguna Verde and Back It will begin at an ungodly hour to visit some of the following:

Sol de Manaña geyser basin (4850m) - a collection of bubbling sulfur pools and a geyser, normally visited just as the sun is rising. There are no railings here, the ground can be slippery and cave in, and that water looks hot.
Termas de Polques hot spings (4400m, 22.536 S, 67.649 W) - adjacent to Salar de Chalviri - bring something to swim in if you want to enjoy the hot springs. A popular spot for Breakfast. Bathrooms available for 1B.
Laguna Verde (4400m, 22.795 S, 67.84 W) - (coloured green by Arsenic, Lead, Copper and other heavy metals) with a perfect reflection of Vulcán Lincacabur (5960m).

Next will be a long drive back to Uyuni, or you can also branch off here to San Pedro de Atacama.
Laguna Blanca - A white lake filled with Borax.
Lunch - Laguna Colorada is a popular place to eat lunch. Restrooms may or may not be provided.


Third Afternoon - Eastward Toward Tupiza If you opt for the four day tour to Tupiza, then you will go off the beaten track, and visit some small communities. You will see the previous and some of the following:

Laguna Celeste - A clear-blue lake colored by magnesium and manganese.
Laguna Amarilla - A yellow sulfur lake, some old cave paintings nearby.
Ruinas de San Antonio - an abandoned 16th century mining town where prospectors used slave labour. Depending on who you talk to the town was abandoned because either, there was a slave rebellion or, men started to go blind / missing. Regardless an attempt in the 70s to repopulate the town failed and people now live in a town of the same name thats close by but not overlooked by the ominous Volcano Uturuncu (6020m).


Third Afternoon - Northward Toward Uyuni The road back to Uyuni is very bumpy. You will stop in various small communities on the way.

Valles de Rocas - many strange valleys of rocks popping up out of the altiplano. The guide will point out patterns in the rocks that resemble familiar objects.
Accommodation - Tours stay at various small towns on route to their final destination. Heating and showers are dependent upon where the driver decides to stop. The small town of Alota is relatively popular with tours.


Fourth Day - ending in Tupiza tour will be a long ride through beautiful landscape. The last attraction before arriving in Tupiza is:

Sillar (21.44 S, 65.8 W) - which are giant columns of clay formed by erosion.


Fourth Day - ending in Uyuni

San Cristobal (21.095 S, 67.21 W) - a town with a 350-year-old church containing a silver altar.
Train Graveyard (20.479 S, 66.834 W) - a collection of many old trains 3km southwest of Uyuni.


Stay safe Some advise to bring emergency supplies (including up to several extra days of food and water) in case the truck breaks down in a remote place.

Altitude sickness is a real possibility here. If you are arriving directly from the coast, you may need up to a couple days to acclimatize. Dizziness, shortness of breath and headaches are common symptoms. The locals swear by chewing coca leaves to help, but be advised that you may fail a drug test.