Bolivia Tours and Activities in Bolivia
Book tours and activities in Bolivia online. Confirmed reservations for a wide selection of adventure tours, sightseeing tours, activities and more in Bolivia. Reserve your place before you get there!
UYUNI
Type: Tour Adventure / Aventura
UYUNI SALT FLATS TOURS (1 DAY)-Uyuni
Duration:
1.0 Days
Leaves:
Uyuni
Ends:
Uyuni
Uyuni Salt Flats Tour
The Salar de Uyuni is the largest salt lake in the world and stretches for hundre...
Type: Tour Adventure / Aventura
Type: Tour Adventure / Aventura
Blue Line Service, Expediciones Empexsa, Expediciones Lipez, Expediciones Tayka, Fremen Tours, Hidalgo Tours, Huaynuma Tours, Kantuta Tours, Reli Tours, Tonito Tours, Toňito Tours, Tupiza Tours, Turismo El Desierto, Oasis Odyssey Tours.
LA PAZ
Gravity Assisted Mountain Biking, Turismo El Solario.
POTOSI
Type: Tour Adventure / Aventura
POTOSI SILVER MINES TOURS-Potosi
Duration:
0.5 Days
Leaves:
Potosi
Ends:
Potosi
Cooperative Mines
The cooperative mines in Cerro Rico (rich mountain), this barren conical hill is 4824...
Koala Tours, Silver Tours, Claudia Tours, Andes Salt Expeditions, Real Deal Tours, Greengo Tours.
SUCRE
Candelaria Tours, Teresitas Tours, Joy Ride, Locots, Bolivia Specialists.
Latest News

Bolivia Independence Day
2014-08-10
Bolivia, officially known as the Plurinational State of Bolivia (Spanish: Estado Plurinacional de Bolivia, Quechua: Bulivya Mamallaqta, Aymara: Wuliwya Suyu),[10][11] is a country in central South America....
More Info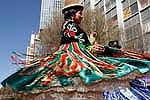 Urkupiña Festival in Cochabamba
2014-08-10
The feast of Our Lady of Urkupiña held between 14-16 August every year in the city of Quillacollo (near Cochabamba). Religious devotion and folk dances are for this purpose....
More Info

Anniversary of La Paz Department on July 16th
2014-07-13
Nuestra Señora de La Paz (Our Lady of Peace; Aymara: Chuquiago Marka or Chuqiyapu) is the administrative capital of Bolivia. This july 16th celebrate one anniversary....
More Info