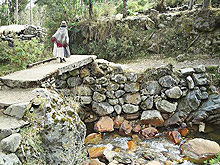 A longer and more adventurous alternative to the El Camino del Oro trek is the six- to seven-day pre-Hispanic Mapiri trail, which was upgraded 100 years ago by the Richter family in Sorata to connect their headquarters with the cinchona (quinine) plantations of the upper Amazon Basin.
It is a tough, demanding trek with a lot of physical exertion besides mere walking – expect to clamber over and under logs, hack at vegetation with a machete, get assaulted by insects and destroy formerly decent clothing! That said, it is an amazing experience; the nature is unspoiled, and for the large part you are out on your own miles from any roads or villages.
While the trailhead is technically at the village of Ingenio, you can also begin this unspoiled route by climbing from Sorata over the 4658m Abra Chuchu, then ascending and descending through the open grassy flanks of the Illampu massif to Ingenio. For the next three days it descends along one long ridge through grassland, dense cloud forest and pampa to the village of Mapiri.
With the Sorata approach, the entire route takes anywhere from six to eight days, depending on the weather, your fitness and whether you reach the trailhead at Ingenio on foot or by motor vehicle.
An excellent side-trip before you get started will take you from Ingenio up to the lovely and medieval, cloud-wrapped village of Yani, where there is a basic alojamiento.
Bolivia does not get much more enigmatic than this and adventurers will not regret a visit.
No maps are available for this route, due to government sensitivity on mining issues, and landslides often cause changes to the paths, which in some parts are heavily overgrown – a machete will be necessary.
Therefore, it is strongly recommended to take a guide from Sorata.
The Mapiri trail begins at the village of Ingenio, which has basic alojamientos. It can be reached either by 4WD from Sorata (three to four hours) or on foot over Abra Chuchu (4658m). For the latter, start at the cemetery in Sorata and follow the track up past the tiny settlements of Manzanani and Huaca Milluni to the larger village of Chillkani, about three hours beyond Sorata. From there you have five hours of fairly relentless climbing of the semiforested slopes to the Abra Chuchu. You will meet up with the road twisting 4km below the pass.
Shortly after the crest, take the left turn – the route straight on leads to Ancoma and El Camino del Oro trek – down toward a small lake. This route will take you over Paso Lechasani (4750m) and down past Mina Suerte to Ingenio and the start of the Mapiri trail at 3550m.
Past Ingenio you will cross the Río Yani. Here the trail starts downstream, but half an hour later it cuts uphill along a side stream; there is a good campsite where it crosses the stream. The path then twists uphill for 1½ hours over a 4000m pass. In the next two hours you will cross three more ridges, then descend past Cueva Cóndor, a cave that is also a good campsite, to a small lake. From the lake the route ascends to Paso Apacheta Nacional (3940m), then twists down El Tornillo, a corkscrew- like track that drops 150m. In under an hour you will cross the Río Mamarani, where a good campsite is protected by large rocks.
The next campsite lies three hours further along, beside a stream-crossing at the foot of the next big ascent. At the next stream, 30 minutes later (collect water here!), is another campsite. Here the trail climbs a long staircase, then descends into another valley before climbing to the next pass, Abra Nasacara (4000m). At this stage you are on the ridge that dominates most of the Mapiri trail route, with great views of the Illampu massif. For the next three days, you wll follow this ridge up and down, slowly losing altitude and passing through mostly lush jungle vegetation; fill your water bottles at every opportunity. The first water along this stretch is at Tolapampa, which also makes a good campsite.
The next stretch passes through thick forest and may require a bit of bush bashing with a machete; plan on getting good and wet from mud and the soaked vegetation.
Six hours beyond Abra Nasacara is a very pleasant ridge-top campsite, Koka Punku, with water in a shallow pond 50m away. About three hours later, just before a prominent landslide, watch for the water 3m off the track to the right. Four hours and three crests later is the last permanent water source and campsite at Lagunillas. An hour later you will find good (but dry) campsites on the hill, Alto Palmar.
From Alto Palmar, the trail tunnels through dense vegetation along the Cuesta de Amargura (Bitterness Ridge). After three hours the jungle gives way to merely thick bush. Six hours later you'll reach Pararaní (1900m), where there is water (which needs to be purified) in a small pond near the ruins of an old house. An hour later there is a semi-permanent lake, and just beyond it the trail leaves the dense vegetation and issues onto a grassy ridge flanked by thick forest. It is then 4½ hours to Incapampa, with a semi-permanent marsh and a campsite.
Along this stretch, wildlife is rife – mainly in the form of bees, ants, ticks, flies and mosquitoes, as well as plenty of butterflies.
About three hours beyond Incapampa you will reach the hamlet of San José (1400m), where there is a campsite and a view over the village of Santiago. Water can sometimes be found 300m down to the right of the route.
After an open area that is actually an old cemetery, the left fork provides the faster track to Mapiri.
Four to five hours of walking from San José brings you to Mapiri, which is visible 1.5 hours before you arrive. Here you will find several decent alojamientos (avoid the Alojamiento Sorata) and motorized canoes that race the 80km downstream to Guanay, which will seem like a city after a week of isolation! Boats leave around 9am, but get there an hour earlier to get a place. Alternatively, catch a camioneta along the 4WD track first to Santa Rosa (do not attempt to walk as there are two large river crossings), which has a decent hostal with a swimming pool, and then 175km uphill back to Sorata (12 hours).