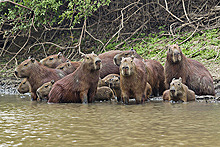 Tourism around Rurrenabaque has taken off to an extent that would have been unimaginable a decade ago, thanks to the attractive rainforest and pampas, which support Amazonian wildlife in relatively large numbers. But, as with most development, there are drawbacks, and in this case, it is the plethora of tour operators who are often much less responsible than they ought to be.
Ecofriendly operators of pampas and jungle tours are also cropping up on every corner of streets of Rurrenabaque. Many undercut the official prices and, despite claiming to be ecofriendly, do not respect the environment they work in. Inorganic waste is often left at campsites, animals are handled and disturbed, and safety of travelers is often compromised, with inexperienced guides not knowing what to do in an emergency. This is largely a result of over-demanding budget travelers expecting low prices and high delivery: perceiving the large number of operators as fair game for bartering, they beat the prices of operators down to the minimum and demand guarantees of spotting wildlife.
Bear in mind that spotting caimans, anacondas, piranhas and other Amazonian animals is a privilege, not a right. Operators and guides should not promise animal sightings (this encourages their unethical capture), go looking for wildlife or, under any circumstances, feed or handle any animals.
Choose your operator carefully. Talk to other travelers and keep in mind the basic standards that guides should adhere to, and, most importantly, be responsible in your own expectations.
Better still, opt for one of the community-run ecotourism ventures, which, although more expensive, are definitely more worthwhile and aim to help sustain communities and preserve the richness of the rainforests for the generations to come.
Shop around to get an idea of official prices. Any agency undercutting rates should be regarded with caution. Only SERNAP-authorized operators are allowed to enter Parque Nacional Madidi and foreigners must be accompanied by a local guide. Note that to get the most out of these tours, at least a minimal knowledge of Spanish is required.
The Bolivian rainforest is full of more interesting and unusual things than you could ever imagine.
Local guides, most of whom have grown up in the area, are knowledgeable about the fauna, flora and forest lore; they can explain habits of animals and habitats and demonstrate the uses of some of the thousands of plant species, including the natural remedies for colds of the forest, fever, cuts, insect bites (which come in handy!) and other ailments. Note that you are likely to see a lot more plants than animals.
Most trips are by canoe upstream along the Río Beni, and some continue up the Río Tuichi, camping and taking shore and jungle walks along the way, with plenty of swimming opportunities and hammock time. Accommodations are generally in private camps of agencies.
Rain, mud and mariguí (sandflies) make the wet season (especially January to March) unpleasant for jungle tours, but some agencies have camps set up for wildlife watching at this time.
It is easier to see wildlife in the wetland savannas northeast of town, but the sun is more oppressive, and the bugs can be worse, especially in the rainy season. Bring binoculars, a good flashlight, extra batteries and plenty of strong anti-bug juice. Highlights include playful pink river dolphins, horseback riding and night-time canoe trips to spot caiman.