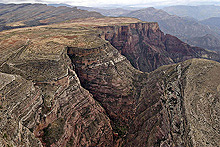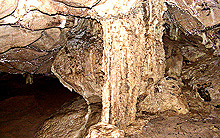 One of most memorable national parks of Bolivia, Torotoro at times can seem like a practical demonstration of geology on an awe-inspiring scale. Beds of sedimentary mudstone, sandstone and limestone, bristling with marine fossils and – from drier periods – dinosaur footprints, have been muscled and twisted into the sharp, inhospitable hillscapes of the Serranía de Huayllas and Serranía de Cóndor Khaka.
In places, the immensity of geological time is showcased, with exposed layers revealing fossils below a hundred meters or more of sedimentary strata.
Amidst it all, the characterful, impoverished colonial village of Torotoro itself (2720m) is one of the most remote settlements of the region (although road access is steadily improving).
1.- Dinosaur Tracks Most visitors to Torotoro come for the paleontology. The village, which sits in a wide section of a 20km-long valley at a 2600m elevation, is flanked by enormous, inclined mudstone rock formations, bearing bipedal and quadrupedal dinosaur tracks from the Cretaceous period (spanning 145 million to 65 million years ago). There are numerous tracks (huellas) all over the place, and much work remains to be done on their interpretation. Many different dinosaur species are represented, both herbivorous and carnivorous.
The closest tracks are just at the entrance to the village, on the other side of the river. Above the water but below the road are the largest tracks of the area, made by an enormous quadruped dinosaur (diplodocus or similar), and they measure 35cm wide, 50cm long and 20cm deep. Near here, just above the road, the angled plane of rock reveals a multitude of different tracks, including a long set of a heavy quadrupedal dinosaur that some have posited are those of the armadillo-like anklyosaurus.
Along the route to Umajalanta cave, the flat area known as the Carreras Pampa site has several excellent sets of footprints (on both sides of the path). These were made by three-toed bipedal dinosaurs, both herbivores (with rounded toes) and carnivores (pointed toes, sometimes with the claw visible).
All the tracks in the Torotoro area were made in soft mud, which then solidified into mudstone. They were later lifted and tilted by tectonic forces. For that reason, many of the tracks appear to lead uphill.
2.- Sea Fossils In a small side gully, a walk of an hour southwest of Torotoro, on the Cerro de las Siete Vueltas (Mountain of Seven Turns – so called because the trail twists seven times before reaching the peak), is a major seafossil deposit. At the base of the ravine you may see petrified shark teeth, while higher up, the limestone and sedimentary layers are set with fossils of ancient trilobites, echinoderms, gastropods, arthropods, cephalopods and brachiopods.
The site is thought to date back about 350 million years. There is another major seafossil site in the Quebrada Thajo Khasa, southeast of Torotoro.
3.- Pachamama Wasi This amazing and beautiful house-museum (Sucre s/n) is the quirky home of a man who has spent years of his life pacing the cerros (hills) with a eye of rockhound. The house is like a botanic garden, but made of stones: fossils, geological quirks and unusually shaped rocks form a unique, soothing ensemble. It is uphill from the main street but only open when the owner or his family are at home.
4.- Cañón de Torotoro and El Vergel Three kilometers from Torotoro, the ground suddenly drops away into an immense and spectacularly beautiful canyon, over 250m deep. From the mirador (viewpoint) at the top, you can gaze along it, watching vultures wheeling. The cliffside here is also home to the rare paraba frente roja (Redfronted macaw; p316), which you have a good chance of seeing, or at least hearing. From here, following the diminishing canyon along to the left, you come to a flight of 800 stairs that lead down to El Vergel (also called Huacasenqa, meaning nostrils ot he cows in Quechua), which always has water and is filled with incongruous moss, vines and other tropical vegetation.
At the bottom a crystal-clear river tumbles down through cascades and waterfalls, forming idyllic swimming pools.
5.- Batea Qocha Rock Paintings Above the third bend of the Río Torotoro, 1.5km downstream from the village, are several panels of ancient rock paintings collectively called Batea Qocha because the pools below them resemble troughs for pounding laundry. The paintings were executed in red pigments and depict anthropomorphic and geometric designs as well as fanciful representations of serpents, turtles and other creatures.
6.- Gruta de Umajalanta The Río Umajalanta, which disappears beneath a layer of limestone approximately 22m thick, has formed the impressive Umajalanta Cavern, of which 4.5km of passages have been explored.
The exciting descent is moderately physical, and you must expect to get both wet and dirty; there are several parts where you must crawl and wriggle to get through, and a couple of short roped descents. Make sure you have good nonslip shoes on.
Inside are some spectacular stalagmite and stalactite formations, as well as a resident population of vampire bats who have produced an impressively large pile of steaming dung over the years.
You eventually descend to an underground lake and river, which is populated by small, white, completely blind catfish. The ascent from here is fairly easy, as it takes a more direct route.
The 8km one-way walk to the cavern entrance takes two hours from the village, with plenty of dinosaur footprints to inspect on the way.
There are numerous other caverns in the area, many of which are virtually unexplored.
7.- Llama Chaqui A challenging 19km hike around the Cerro Huayllas Orkho from Torotoro will take you to the ruins known as the Llama Chaqui (Foot of the Llama). The multilevel complex, which dates from Inca times, rambles over distinctive terraces and includes a maze of rectangular and semicircular walls, plus a fairly well-preserved watchtower. Given its strategic vantage point, it probably served as a military fortification, and may have been somehow related to Incallajta, further north